BACKGROUND
After birth, each baby will go through a series of tests looking for appropriate function of all major organs. This is referred to as the newborn screening (as discussed in the newborn care class). This vital screening helps alert providers of any potential problems that may require further evaluation. One aspect of this evaluation is assessing the amount of oxygen carried in the baby's blood. This test is performed using a pulse oximeter. A pulse oximeter is a funky looking sock/brace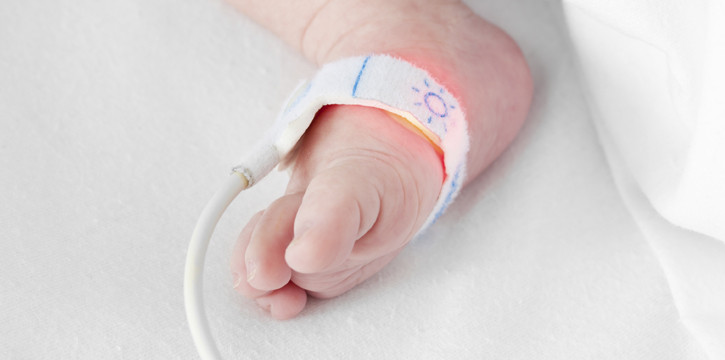 that goes on either foot, the right hand, or the fingers. Using light imaging technology with highly sensitive sensors, it provides a non-invasive way to quickly assess how much oxygen the blood is carrying. Without getting into too much nuance detail, this screening helps look for potential problems that may require intervention early in life (i.e. congenital heart defects). Once the screening is complete, the monitor is removed and the baby's vitals (heart rate, respiratory rate, temperature, blood pressure) are checked a few more times before being discharged home.
These pulse oximeter devices have typically only been found in hospital settings until a few years ago. In 2012-2013 the Owlet smart sock and Baby Vida companies began prototyping the idea of in-home pulse oximeter devices to help monitor oxygen levels in newborns to give parents peace of mind. Thanks to aggressive online advertising campaigns, mom blogs, and news media coverage, they are now monitoring trillions of heart beats a day and gaining traction around the globe. But have this monitoring changed anything?
THE QUESTION
What in-home pulse-oximeter devices are available and how do they compare?
What are the potential pros/cons of using an in-home monitoring device?
What role do these devices have in improving newborn outcomes? (specifically infant death)
CURRENT OPTIONS
Owlet Sock 2
About: In 2012 the initial founder of Owlet and his wife planned for a family. His wife had been born with a heart defect, and the couple, then students at Brigham Young University, feared their children might inherit the condition. The founder researched pulse oximetry technology and founded Owlet with three classmates with multiple innovation awards and clinical testing.
Baby Vida
About: In 2012 Mollie and Jeff Evans were two new parents living in Omaha Nebraska. Mollie found that traditional monitors did not give her the reassurance she desired. She and her husband decided to develop the Baby Vida as a way to help monitor their first child during the night. The development of their product spanned over 3 years with clinical testing.
Owlet
Baby Vida
Price
$199.99
$76.76
Package
3 fabric socks (up to 18 months)
Sensor
Base
Charging cords
App
2 fabric socks (up to 12 months)
Sensor
Charging cords
App
Range
Sock to base ~ 10 feet (Bluetooth)
Base to App (Wifi)
60 Feet sensor to App (Bluetooth)
Alert Type
Base color change
App Alert (wifi)
App Alert
App
IOS (5 star), Google Play (4.5 star)
IOS (1 star), Google Play (?)
Warranty
45 day risk free, 12 month manufacturer warranty
?
Ages
1 Day – 18 months
1 Day – 12 months
Charge Time
3-4 Hours
3 hours
Reviews
Walmart 4.5/5 (3062 reviews)
Amazon 3.9/5 (1056 reviews)
Walmart 2.4/5 (10 reviews)
Amazon 2.5/5 (56 reviews)
***Of note – since the publication of this post, the Babyvida is not available for purchase online. Their website www.babyvida.us is also currently unavailable.***
PROS & CONS
PROS
– May provide reassurance for worried parents
– May provide useful information for improving newborn health
– Wireless with App notifications
– Very low risk of injury to baby
– Portable
CONS
-Not FDA approved (no regulation)
– May provide false positives or false negative data
– Daily charging requirement
– Cost prohibitive
– Not a diagnostic tool
– Lack of medical reason to monitor

The biggest takeaway I have from my research of these devices is the fact that neither device is FDA approved as a "medical device". Neither are intended to diagnose, treat, mitigate, cure, or prevent any disease or condition. A large number of customer reviews showing positive results from these devices were parents of children with complex medical needs, or repeat parents who suffered a tragic loss from SIDS (read more about SIDS here). While their testimonies boast of reassurance, the data is not supportive of any prevention or improvement in newborn outcomes with devices. In fact, the American Academy of Pediatrics openly discourages their use if claiming to reduce SIDS.
I can't ignore the countless stories on their website and in forums across the internet claiming that these devices helped save little ones – but I also can't ignore the active class action lawsuit against Owlet for false alarms or the countless number of mothers posting about ER visits for healthy babies because of false alarms.
IMPROVING OUTCOMES
I feel the real question surrounding these devices is simple: Do they prevent infant death? Before we can address that, we must evaluate HOW accurate they really are. A research letter by Children's Hospital of Philidelphia was published on August 2018 in the Journal of American Medical Association (A highly respected peer-review journal) evaluating the accuracy of these devices compared to an FDA-cleared pulse oximeter. The results:
| | | |
| --- | --- | --- |
| Accuracy *compared to standard monitor | Owlet | BabyVida |
| Oxygenation | Inconsistent low oxygen detection (88%) | No low oxygen detection (0%) |
| Heart Rate | Good accuracy | Falsely low pulse rates (14 patients alerted for low heart rates found to be normal) |
One article written by Michelle Dangerfield and a few of the medical doctors with owlet care noted that of the 47,495 newborns monitored, only 80 parent-reported cases led to the prevention of a critical event or assistance in diagnosing an overlooked condition. Most of the cases (23) were due to infection from respiratory syncytial virus (RSV). It does not say, however, that this sock reduced the rate of infant death.
CONCLUSION
The fears and anxieties of bringing home a newborn are real. I am a firsthand witness to that truth. These tiny newborns enter the world and are immediately screened by incredible advances in technology to help us monitor and care for them like never before. Opportunists and concerned parents have pushed this monitoring technology to implement in the home as a way of selling "peace of mind". Recent data has shown that the reliability and accuracy of these monitors may not provide as much "peace of mind" as advertised. In some instances, these false alarms have caused unnecessary worry, ER trips, and testing. We must ask ourselves the question: If these devices are not intended as diagnostic tools and their accuracy is questionable, what use do they have for the consumer? Are these devices saving lives or simply acting as a pacifier for worried parents – portraying function, but lacking any real substance? Comment on our IG your thoughts or email me at hello@itsthebabylady.com.
Resources:
(1) Image: https://www.birmingham.ac.uk/university/colleges/mds/news/2017/11/ewer-lancet-pulseox.aspx
Owlet: https://owletcare.com/
BabyVida: www.babyvida.us
American Academy 2016 SIDS Recommendations
FDA statement on devices for SIDS
Owlet Lawsuit for false alarms
JAMA article on Owlet and BabyVida accuracy
Owlet publication in Global Pediatric Health